Donuts. The United States seems to have had a loving relationship with this exquisite treat since the early nineteenth century. We all can admit that they are extremely good, whether they are glazed or filled with jelly and coated with icing sugar. People have queued up at the donuts counter for decades to order a doughnut and a cup of coffee. It's a fantastic chance to meet new people and learn about what was going on in town. The doughnut store was, and continues to be, a welcoming place for people from many walks of life. One such donut shop is dunkin donuts. In this article, we will read about who owns dunkin donuts. We will also read about other interesting facts about Dunkin Dounts.
What is dunkin donuts? Who owns Dunkin Donuts?
When you consider that the business serves over 3 million customers every day, the phrase "America runs on Dunkin'" looks to be rather true. Coffee accounts for a staggering 60% of the company's annual sales. Dunkin' Donuts may have started off as a doughnut shop, but it's now a fast-food joint featuring a variety of breakfast meals. Furthermore, Dunkin' Donuts became Dunkin' in early 2019, and the company's years heritage is full with interesting Dunkin' facts to keep fans interested.
Dunkin' Donuts LLC, or simply Dunkin', is a worldwide coffeehouse and donut corporation as well as a takeaway restaurant based in the United States. In 1950, William Rosenberg established it in Quincy, Massachusetts. The business was purchased by Allied Lyons, the parent company of Baskin-Robbins, in 1990, and the conversion of the Mister Donut network to 
Dunkin' Donuts aided the brand's expansion in United States that year. 
Dunkin' and Baskin-Robbins were acquired by Inspire Brands on December 15, 2020, after becoming subsidiaries of Dunkin' Brands, based in Canton, Massachusetts.
Thus, there were several answers to who owns dunkin donuts.
Who owns dunkin donuts?
Inspire Brands Inc. owns dunkin donuts. Just like dunkin donuts, Inspire Brands Inc. is an american company. On February 5, 2018, Arby's Restaurant Group and Buffalo Wild Wings combined to establish Inspire Brands. The Rusty Taco franchise is also owned by Buffalo Wild Wings. Paul Brown, the CEO of Arby's, has been chosen to remain as the CEO of Inspire Brands. 
Brown anticipated that Inspire will acquire more chains in other categories. He intends to arrange the business similarly to Hilton Hotels & Resorts. Due to the infusion of funds from Roark to support the transaction, Wendy's Company's ownership was lowered from 18.5 percent to 12.3 percent. The 27-location R Taco was renamed Rusty Taco by Inspire in September 2018. Inspire is a multi-brand restaurant corporation with almost 32,000 Arby's, Baskin-Robbins, Buffalo Wild Wings, Dunkin' Donuts, Jimmy John's, Rusty Taco, and SONIC Drive-In locations throughout the globe.
What time does dunkin donuts open?
Dunkin Donuts generally opens at 10AM in India. However in U.S.A, it opens up at 5am. Furthermore, they open at 6am at the weekends in U.S.A. 
Important Note: The time dunkin donuts open depends on the location. Some Dunkin Donuts stores are also open 24 hours. So, if you want to know what time does dunkin donuts open, you can easily check it on Google for your nearest location.
You can also comment the location where you want to know what time does dunkin donuts open.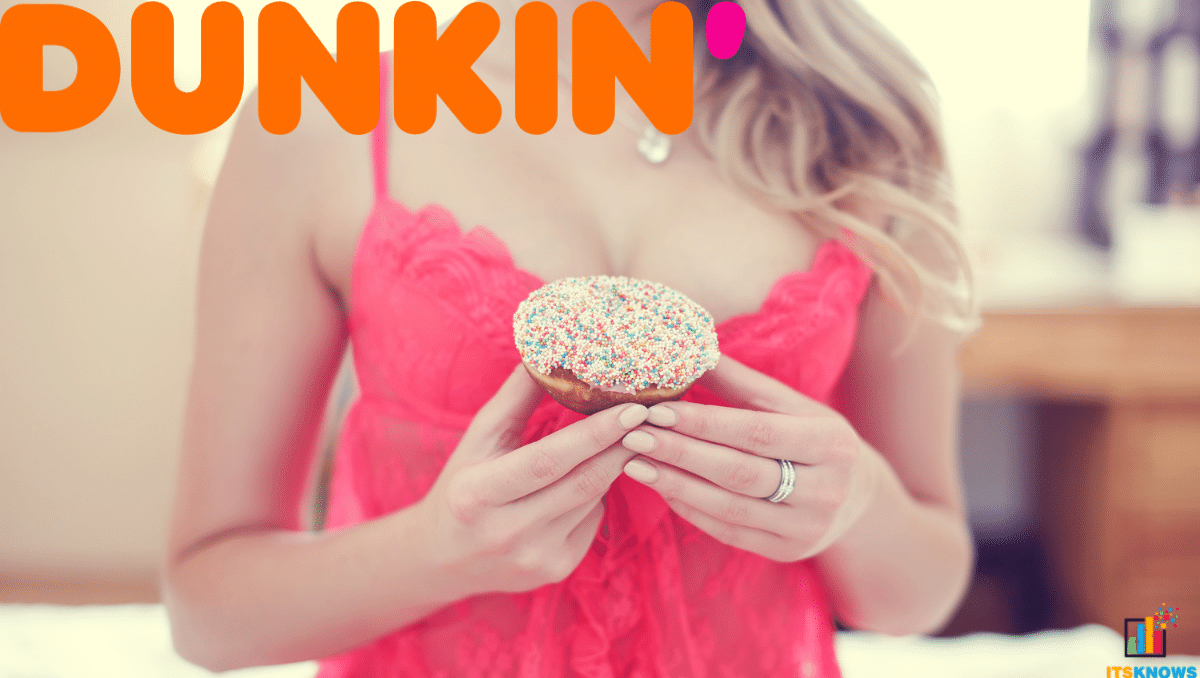 Want to bring dunkin donuts at home? Try the Dunkin' Donuts Coffee
These Dunkin' original blend coffee pods provide a smooth, traditional flavour. Each one is high in caffeine to give you a boost of energy, while the original mix has a rich, velvety texture. Each box contains 44 Keurig K-Cup Dunkin' coffee pods, allowing you to share them with friends, family, and coworkers.
K-Cup coffee pods for Keurig brewers

Original Blend coffee, roasted to a medium roast.

Each carton contains 44 K-Cups.

The item is kosher.

This coffee is made entirely of Arabica beans.
Yes, all this in one product and you can order it online from amazon. Visit the link to check the price here. 
What time do Dunkin donuts close?
In India, the Dunkin donuts closes at 11 pm. On weekdays, Dunkin' Donuts locations are normally open from 5 a.m. until 9 p.m. or 10 p.m. On weekends, they're usually open from 6 a.m. until 9 p.m. However, the hours of operation vary by location, as well as some outlets are available 24 hours per day, so it's worthwhile to check your Dunkin donuts near outlets timing by visiting Google or dunkin donuts official website at – Dunkin'® Coffee 
How old do you have to be to work at Dunkin donuts?
You must be at least 16 years of age to find employment at Dunkin' Donuts. Porter, crew members, counter assistance, clerk, shift commander, assistant service manager, or even restaurant management are all possibilities work job opportunities. 
Why should you apply for a job at Dunkin' Donuts?
Dunkin' Donuts has relatively flexible schedules, with many stores operating 24 hours a day, making it an ideal alternative for employees with time limitations. Many entry-level roles are available on demand, both full-time and part-time.
Completed Dunkin' Donuts applications should be sent to the recruiting location. Candidates must be on their best behaviour throughout this visit. At this point of the employment process, first impressions are crucial.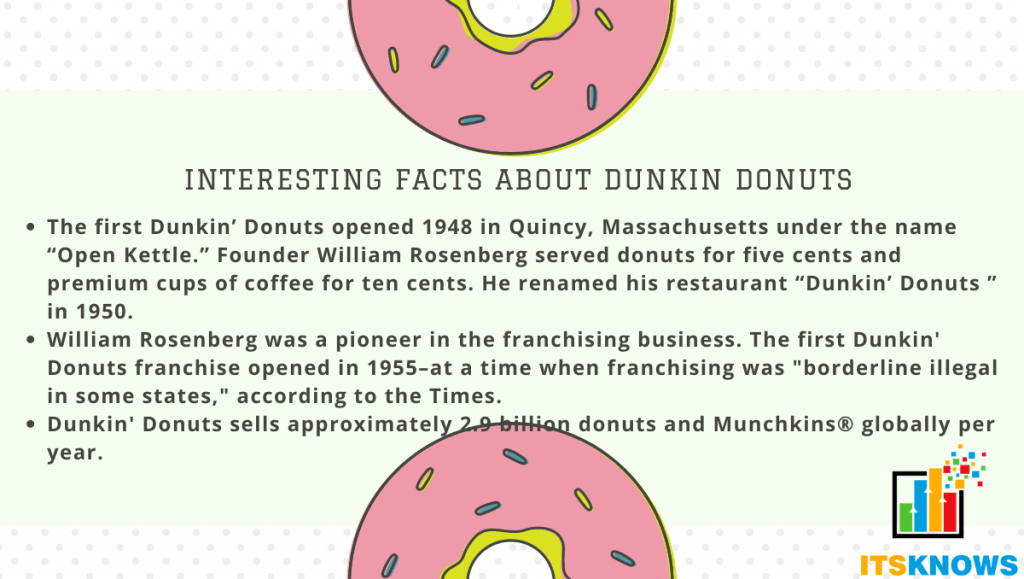 Conclusion – Who owns Dunkin Donuts
Dunkin' Donuts is a well-known coffee and baked products franchise in the United States and across the world. There are fifty-two distinct varieties of donuts available, as well as more than a dozen coffee drinks, bagels, breakfast items, and other baked items. The company is a leader in hot, decaf, flavoured, and iced coffee, as well as doughnuts. The food at the restaurant is served quickly, freshly, and with a cheerful smile. For almost forty years, the business has served consumers all around the world and has earned a reputation for customer loyalty. Thus, to answe who owns dunkin donuts you can say it is Inspire Brands Inc. in U.S.A. In India, who owns dunkin donuts is Jubilant FoodWorks Ltd.
Who Owns Popeyes 2022 : "A Restaurant Company Called AFC Enterprises"
Our blog itsknows tells you who owns what to help you increase your awareness and general knowledge.